HI Growth Initiative
HI Growth Progress Update
The HI Growth Initiative has achieved significant milestones since its launch in 2011. HI Growth has partnered with local entrepreneurs to establish two venture accelerators that will enhance entrepreneurial capacity in the state and create a stronger, higher quality of deal flow that can attract venture capital investments to Hawaii. The inaugural year of Blue Startups successfully accepted and graduated 15 software startups out of 300 applications received for its Honolulu-based program. To date, these companies have raised over $4 million of follow-on investment from private investors. The GVS Transmedia Accelerator, located in Kona on the Island of Hawaii, focuses on transmedia content startups and accepted its first cohort in May 2014. HI Growth also works closely with the Energy Excelerator, a Federally funded, Honolulu-based venture accelerator program supporting entrepreneurs with innovative solutions for Hawaii's energy sector challenges. HI Growth co-invested with private investors to create access to startup capital via a fund of funds investment program designed to catalyze investment in Hawaii startups. This effort established Hawaii-based venture funds covering the continuum of startup financing needs: two pre-seed investment funds with angel investors to invest in Hawaii-based venture accelerator portfolio companies; a $6 million research commercialization fund in partnership with the University of Hawaii Foundation; a $10 million seed stage fund in partnership with private investors; and a $17 million Series A fund in partnership with institutional investors. HI Growth supports events, like investor summits, Startup Weekends and pitch events that build network density and inspire and prepare entrepreneurs to launch startups. HI Growth's collaborative programs resulted in Hawaii's entrepreneurial community launching "Startup Paradise" as the brand or shared identity for Hawaii's innovation ecosystem.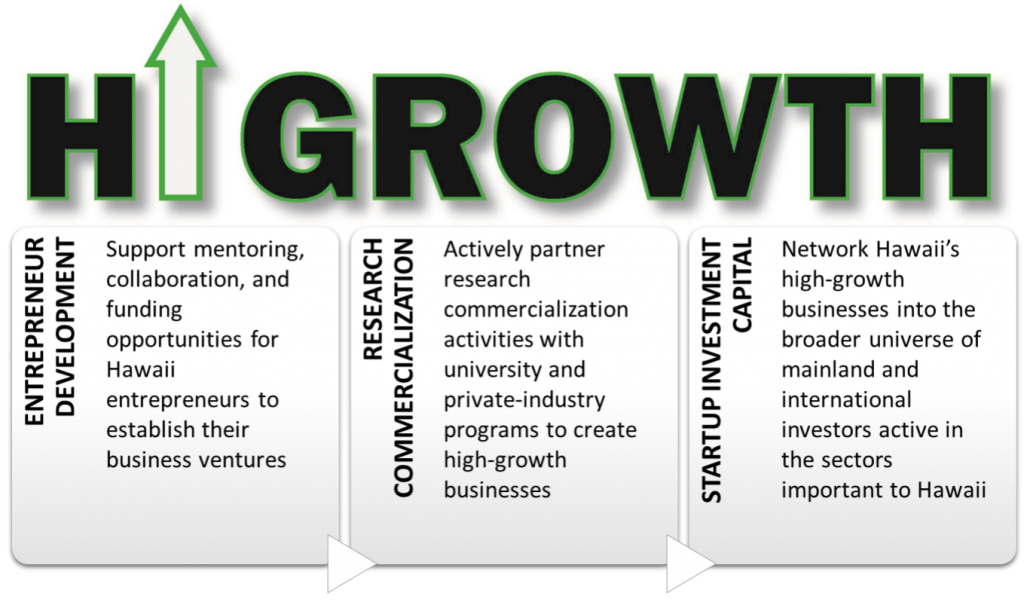 The HI Growth Initiative is a State equity investment program designed to catalyze the development of an innovation ecosystem that supports entrepreneurial high growth businesses and creates high wage jobs for our people.  The HI Growth Initiative provides $20 million of investment capital that will focus on the critical building blocks of an innovation ecosystem: entrepreneur development, research commercialization and the mobilization of startup investment capital.
The knowledge and creative industries represent important new sources of economic growth for Hawaii.  Their workforce already accounts for nearly 8% of the total jobs in the State.   These industries are growing rapidly, have high value output, compete globally using digital technologies and leverage Hawaii's ability to be the meeting place for the world.  They do not require large land and water resources to achieve global scale.  Knowledge intensive industries favor regions with a high quality of life, a distinct competitive advantage for Hawaii.
This comprehensive investment program represents a bold new approach to re-invigorate state efforts to fuel an innovation economy.  The HI Growth Initiative engages with the private sector to startup and grow creative and innovative companies.  This initiative will help to keep our established industries competitive, create new areas of opportunities to excite our entrepreneurs and provide them the ecosystem to pursue their dreams here in Hawaii.
HI Growth Initiative Progress Report (rev. 6/20/14)