About the HI Growth Initiative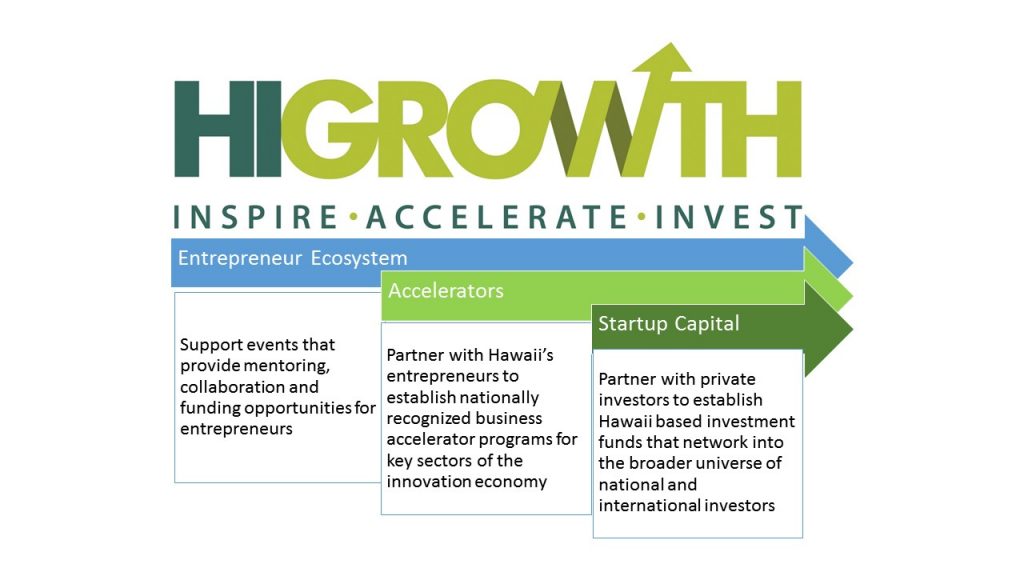 Growing the innovation economy is critical to Hawaii as it is an economic sector that provides a clear pathway to generate highly skilled, well-compensated jobs to employ Hawaii's STEM-educated graduates.
The Hawaii innovation sector needs equity capital to grow and achieve critical mass. HSDC implemented the HI Growth Initiative to attract private investment to Hawaii's innovation economy.
The HI Growth Initiative, in just four years, has shown Hawaii is a viable place build competitive startups. A recent study by the University of Hawaii's Economic Research Organization found 65 companies have been funded as a result of the HI Growth Initiative. The average capital investment from the HI Growth Initiative is $160,000 per company, representing a cumulative investment at the end of 2015 of $10.5 million. Companies on average have gone on to attract an additional $2 million in private funding for a total of $136 million: over 12X leverage on the state's investment.
The HI Growth Initiative focuses on three program areas: entrepreneurial ecosystem development, accelerators and investments.   These program areas are interdependent and interconnected.