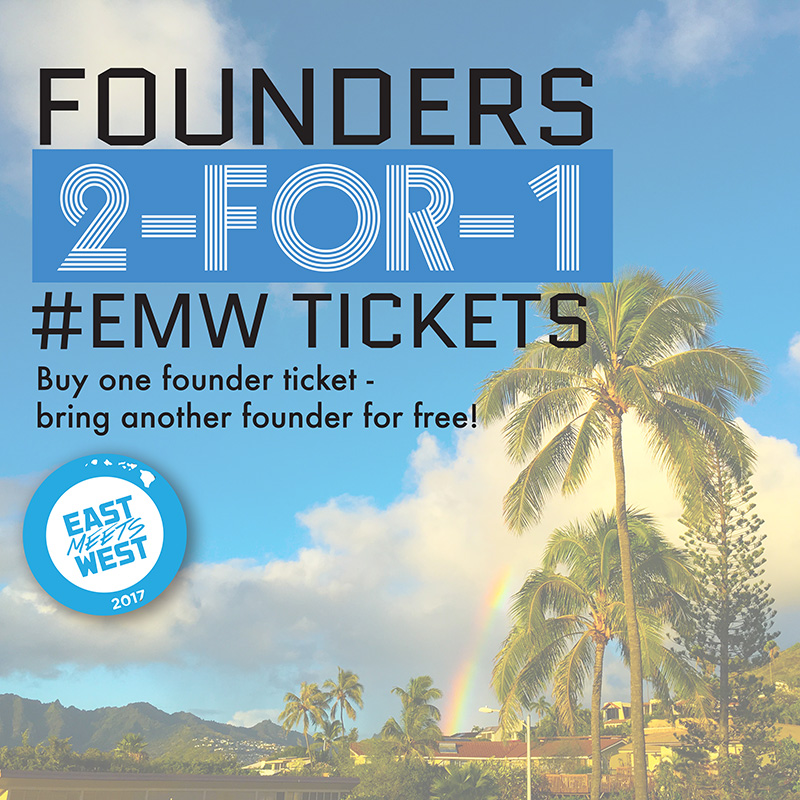 The final countdown to East Meets West 2017 is on now!
Early Bird tickets are gone!
Speakers and investors are locked in!
Pitch-Off Startups from Asia and the US confirmed!
This is the startup event to kick off 2017 and we don't want any founders to miss it so we're turning on this holiday gift to you: 2-for-1 tickets for you and one other founder. BUY NOW!
ONE-ON-ONE ACTIVITIES OPEN ON JAN 3
An incentive to get your EMW17 tickets now is that all registered ticket holders will get first pick at booking the One-On-Ones on January 3rd when we open it up at EMW17.com. That could be a peddle boat ride to pitch Christine Tsai of 500 Startups or get advice from Josh Slayton of AngelList at our beachside lounge. So get your tickets NOW to make sure you can book your One-On-One as only people with tickets by Jan 3 can register for these!
Here are the 5 main breakout tracks of the conference:
VIRTUAL REALITY
Hear from VR experts as they give you insight into what everyone from Facebook to Sony to Apple is talking about the future of the technology and what startups and investors have to gain from being early entrants into this vertical.
ARTIFICIAL INTELLIGENCE
The AI market will reach $16 billion by 2022 and we've only scratch the surface in 2016. Come learn if AI will change the world or enslave us like in those Terminator movies.
eSPORTS
The fastest growing vertical in the world that you don't know about unless you are a hardcore gamer. The eSports vertical has a 43% growth rate over last year and shows no signs of slowing down. Gamer or not you can't ignore this amazing space and how it will open up opportunities globally.
TRAVEL TECH
Being in Hawaii we have the advantage of seeing how TravelTech affects a city famous for its hospitality. In just 2 more years, this industry will be worth $12 billion and affect the way business is done in Hawaii.
STARTUP WORKSHOPS
Some of our speakers are the leading mentors and evangelists in the world when it comes to startups, so lean-in with a series of workshops on growth hacking, tools to scale your business, finding and hiring staff and
Check out our event website for more details