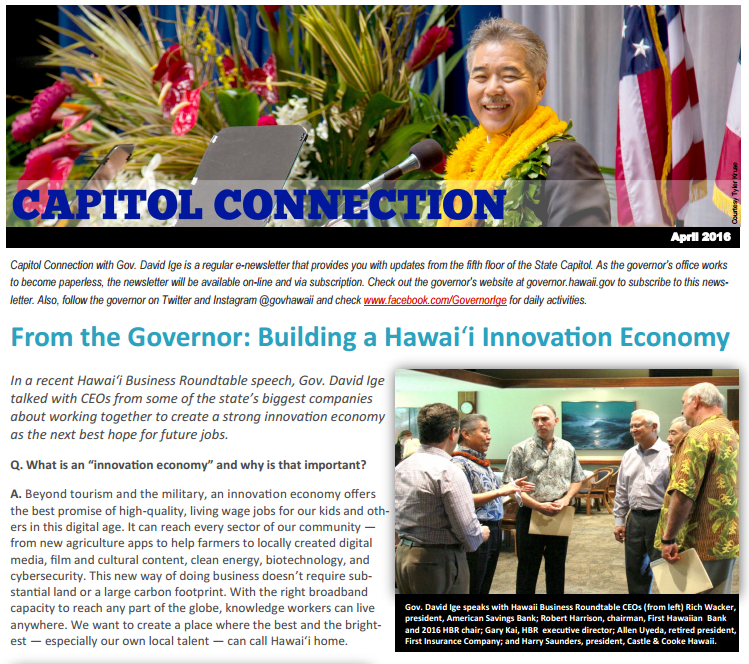 Hawaii's growing Startup Paradise and the HI Growth Initiative were front and center in Gov. David Ige's most recent newsletter, which highlights various state efforts to build a strong innovation economy. The April edition of the governor's Capitol Connection newsletter reported on his recent speech before the Hawaii Business Roundtable about innovation, as well as a number of startup community events including GVS Transmedia Accelerator's Pitch Showcase and the inaugural 2016 Startup Paradise Pitch the Capitol event, a "Shark Tank"-like pitch competition held at the Capitol in March.
"Beyond tourism and the military, an innovation economy offers the best promise of high-quality, living wage jobs for our kids and others in this digital age," Ige says in the newsletter. "With the right broadband capacity to reach any part of the globe, knowledge workers can live anywhere. We want to create a place where the best and the brightest — especially our own talen — can call Hawaii home."
The newsletter talked about the governor's request for additional funding for the HI Growth Initiative and touched on the multi-pronged effort to help move Hawaii's innovation economy forward, from HSDC's HI Growth Initiative investment program and DBEDT's Creative Lab to HTDC's Entrepreneurs Sandbox and the University of Hawaii's XLR8UH accelerator program.